Katrina at
Callapidder Days
is hosting her Spring Reading Thing and since I have a HUGE stack of books in progress and even larger stack of books I want to read I thought I would join in.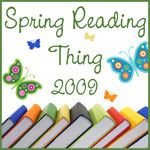 Here is my list...



Fiction



1. Here on Earth by Alice Hoffman - I have been reading this one for years, seriously, and it is certainly time to finish it.

2. The Shadow of the Wind by Carlos Ruiz Zafon - a dear student gave me this book as a gift and it is time to read it.

3. Snow Falling on Cedars by David Guterson - sounds good and has been sitting on my shelf too long.

4. Skeletons at the Feast: A Novel by Chris Bohjalian - this is our book club pick for April

5. The Guernsey Literary and Potato Peel Pie Society by Mary Ann Shaffer and Annie Burrows - book club pick for May

6. Reading Lolita in Tehran by Azar Nafisi - book club pick for June

7. The Venetian Betrayal by Steve Berry - one of my favorite authors. I have been wanting to read this for awhile now.



Non-Fiction



1. Three Cups of Tea by Greg Mortenson - I have been reading this one for months and I really want to finish it!

2. Why Geography Matters by Harm de Blij - background reading for the high school course I teach

3. Beyond the White House by Jimmy Carter - I am a post -Presidency Jimmy Carter fan and I enjoy his writing style.

4. The Book Whisperer by Donalyn Miller - recommeded read on developing the love of reading in children and students, sounds really interesting.

That is a total of 11 books, not many by the standards of most, but considering that I have only finished 3 books in 2009, it is a lot for me. I have lost my reading mojo and really hope this challenge will help me get it back. We shall see......